English à la carte offers a variety of language services, with the aim of matching your multifaceted needs.
• Adapted to professionals wanting to take advantage of Formation Professionnelle; training is provided at the workplace.
• Stay in touch by email, sms, webcam to handle immediate requests. It is not unusual to have never met translation clients living outside of the French Capital. The same is true for research requests from abroad.
• Cater to French companies working in the international arena, but also foreign companies.

Whether preparing a speech for a conference, the English version of your website or a role in an English-speaking film…

Your Partner in the Combat Against Franglais!
Bienvenue !
English à la carte offre une grande variété de services d'apprentissage de l'anglais ayant pour objectif de correspondre à vos besoins.
• Adaptés aux sociétés cherchant une formation professionnelle, nos formateurs se déplacent sur votre lieu de travail.
• Les outils modernes tels que courriel, sms ou même webcam nous permettent de rester en contact avec vous à tout moment. Nous pouvons répondre à vos demandes de traduction sans vous avoir jamais rencontré. Et aussi répondre aux clients étrangers ayant besoin de faire de la recherche en français.
• Nous nous adaptons aux entreprises françaises pour faciliter leur communication avec des partenaires internationaux.
Vous préparez une conférence, un rôle dans un film étranger, la version anglaise de votre site web. English à la carte peut vous aider!

Votre partenaire dans la lutte contre le franglais !

When writing emails in English, use your spell check. In this way you will be able to clean up all the silly spelling errors and learn from your mistakes.

Watchout for franglais. Direct translating as you speak may get you a rotten tomato in the face!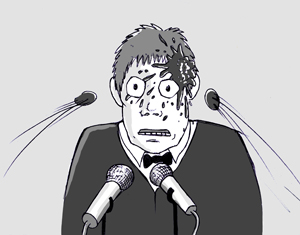 "For this job, the candidate must take to the bottle."
(Pour ce travail, le candidat doit se mettre à boire.)